We're very pleased that we will once again be a Festival Of Code centre this summer. Kicking off 27th July. Festival of Code is a fantastic event run by Young Rewired State which aims to get kids together for a week building hardware and software projects. At the end of the week the teams (optionally) get together at a single location for a two day competition where participants present their projects for the chance to win some cool prizes. Last year we were the first ever centre in Northern Ireland, earning a standing ovation and a place in the semi-finals at the Plymouth weekend. This year we aim to do even better!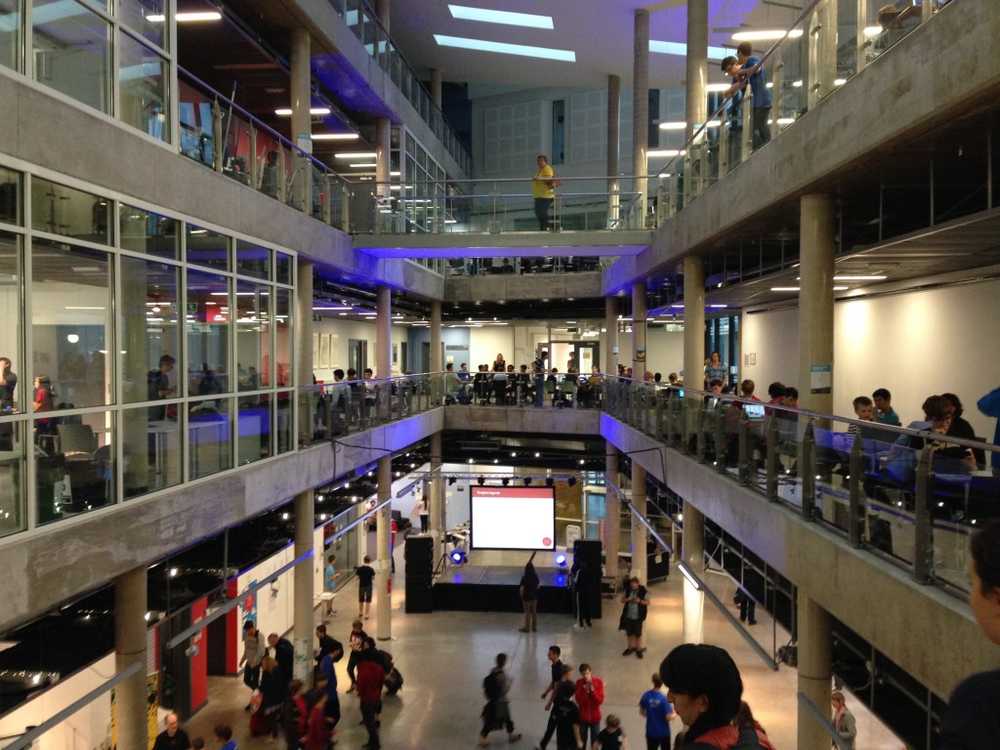 Hundreds of kids hacking away furiously @ FOC 2014
During the week participants go along to their chosen centre where they can build whatever they like using any combination or hardware and software with the only condition being that they must use an open data source – either from a list provided by YRS or one of their own choosing. The range of open data sources available allows for some very unique and innovative ideas which resulted in some very interesting projects being built last year.
At the start of the week, participants form themselves into teams (teams of one are fine too) and experienced mentors are on-hand at each centre to help bring ideas to life and provide guidance on all aspects of design, implementation and testing. This is by far the most fun part for us as it is simply amazing to watch a room full of under eighteens self organise into teams and deliver working software by the end of the week (and even more amazingly on time).
Once the week has finished, participants have the option to attend the competition where they compete in a number of heats to narrow the best ideas down in to five teams of finalists across across five categories – "Best Design", "Best in Show", "Best Use of Code", "Code a Better Country" and "Should Exist".
The heats consist of a short presentation along with a software demo (either recorded or live) in front of peers and judges from the academic community and industry – one of our teams from last year (image below) were even willing to risk invoking the wrath of the demo gods and perform a live demo but unfortunately the facilities didn't allow for this given their stack of choice.

Ross, Brandon and Stefan @ FOC 2014
If this sounds like something you'd like to be involved with either as a participant or mentor, then register at your near FOC of code centre or drop us an email at enquiries for more information.